Exposities &
Samenwerking
You will find my Art in Amsterdam, New York, London, Paris, Milan, Venice, Sydney, Dubai, USA, and divers countries in Europa.
Exhibitions
Venice Biennale, ItsLiquid Borders Art Fair, Palazzo, July 2023
Berlin Galery Azur,  June-July 2023
Milan Galery Artspace, 'Protection of Nature and Environment',  June 2023
Museum the Mauritshuis the Hague, 'Girl with a Pearl Earring' May 2023
Art & Luxury Fair: Grand Hotel Huis ter Duin Noordwijk, Feb. 2023
Elegance Fair Landgoed Parc Broekhuizen Leersum, Okt 2022
Stone Gallery Tindalvilla, Bussum , May-June 2022
Dubai Hilton, Aug – Nov 2022
Antwerp Hilton April – Dec 2022
London Hilton Parklane, Mei – Dec 2022
Gallery Lissabon Denneweg Den Haag, solo exhibition 2022
Tindalvilla, Bussum solo exhibition Atelier 2021
Land Art Project "the Colorfield Performance" Park Lingezegen, Elst 2021
Solo exhibition, Circular Leadership, Naarden 2019
Paris Hilton, Paris, 2018
Palace of Justice the Hague, solo exphibition, 2018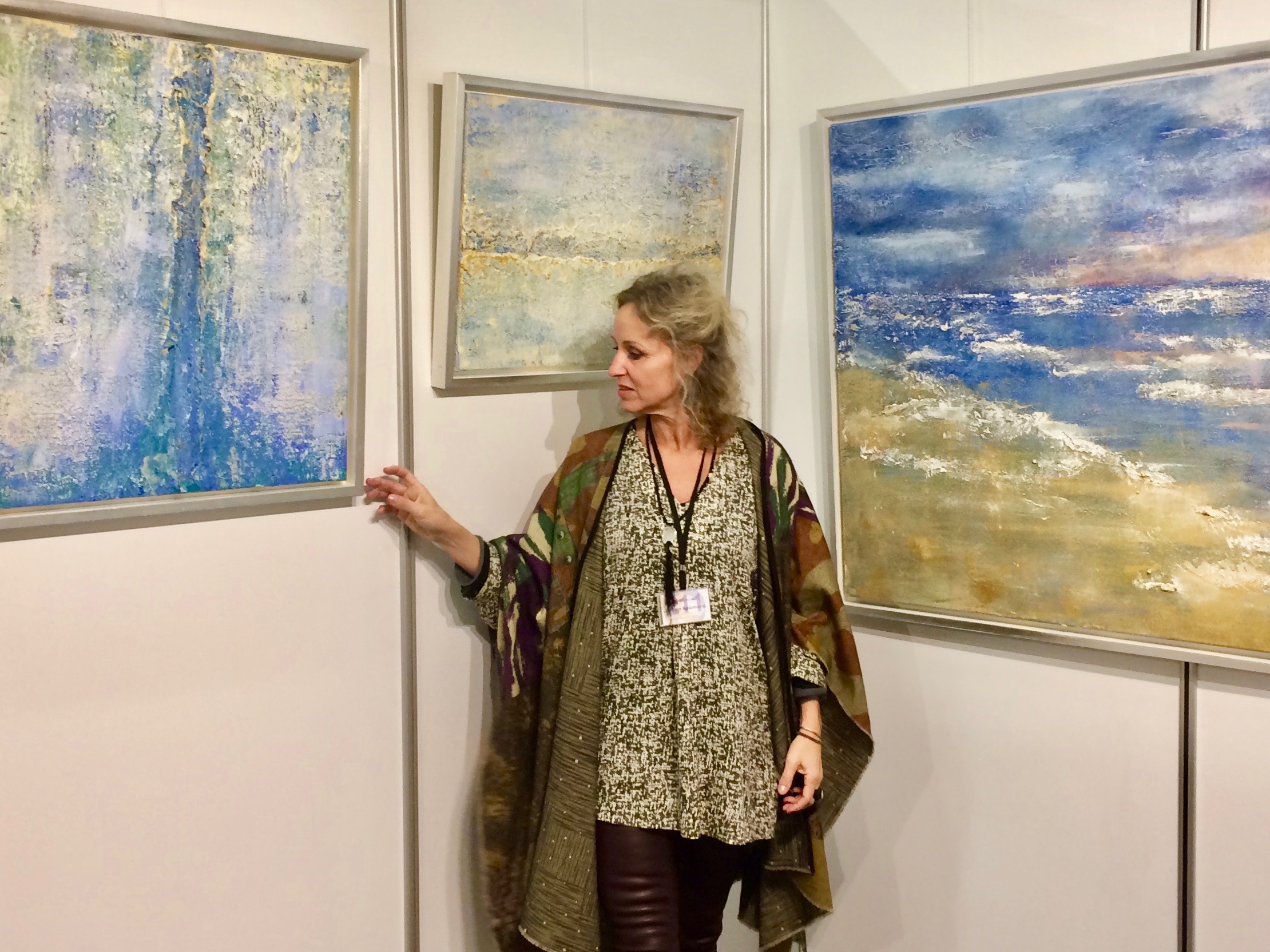 Art Tour The Hague '17, '15, '13, topic: nature of the Hague: beaches, sea, forrest
Round of Art Fair The Hague '16, '14, '12 (no3)
Ahoy Rotterdam, National Art Fair, '16
World Forum The Hague, topic "Peace and Justice" opened by mayor Jozias van Aartsen. '09, '10
Museum Scheveningen 'Pier van Scheveningen' Art and Culture Fair '09
Gallery Banka, The Hague '07
Be welcome to my ongoing exhibition and my  studio at the monumental TindalVilla in Bussum.
Alone you go faster,
               together you go further
Trappart
I started a new initiative in 2020 at location de Trappenberg, central Gooi. A group of six artists.
Platform Artists The Hague
2009: A platform of 70 artists living and working in the Statenkwartier. Board 2009 – 2016. The beautiful neighborhood attracted and inspired many artists. Many initiatives to jointly bring their work into the limelight.
Monday Mornings
Three years (2005-2008) with 5 artists studio morning: model, still life.